HISTORY
Since 1978, Heritage Homes of Nebraska has built thousands of custom homes for families in a ten-state region. Centrally located in Wayne, Nebraska, we proudly design, and build homes for clients in Iowa, Nebraska, Colorado, Wyoming, South Dakota, Kansas, Northern Missouri, Montana, Minnesota and Canada.
Company President Rod Tompkins founded Heritage Homes on the principle that custom homes can be built much better and more efficiently in a controlled environment. Heritage Homes has grown and prospered over the past 32 years. Combine this efficiency with the latest in home-building technology and it's not hard to see why Heritage is one of midamerica's premier system homebuilders.
OUR MISSION
Our mission is simple. Design and Build custom homes that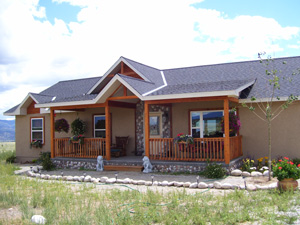 meet the WANTS, NEEDS and BUDGETS of our clients. Heritage Homes offers several different styles from basic ranch to elaborate two story, prow, loft and Cape Cod style homes.
Heritage Homes of Nebraska Inc. is a manufacturing facility that does not sell homes to retail customers. All Heritage Homes are custom built and sold through a network of authorized Heritage Builder/ Dealers. In Colorado Contact Heritage Homes of the Valley.
Since all our homes are custom built, the specifications and design features you select will determine your final investment. When designing your new Heritage Home with your local Heritage Builder, the choices are limited only by your imagination.
You can rest assured knowing that your new Heritage Home is covered by a comprehensive three-year workmanship warranty. Each Heritage Home features a ten-year structural warranty from R. W. C. (Residential Warranty Corporation) an independent third party administrator.