How Do Our Homes Qualify for Energy Star?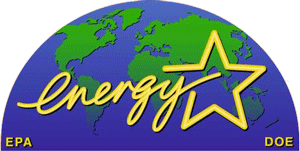 Homes that earn the Energy Star rating are significantly more energy efficient than standard homes by using the following practices:
Effective Insulation: Properly installed and inspected insulation in floors, walls, crawl spaces and basements, and attics ensures even temperatures throughout the house, while using less energy. The result is lower utility costs and a quieter, more comfortable home.
High-Performance Windows: Gerkin or Pella windows with Low-E glass help to keep heat in during the winter and out during the summer. This also blocks damaging ultraviolet sunlight that can discolor carpets and furnishings.
Tight Construction and Tight Ducts: Advanced Foam insulation for sealing holes and cracks in the home's "envelope" and in heating and cooling ducts help reduce drafts, moisture, insects and sound. A tightly sealed envelope improves indoor comfort and air quality, while lowering energy and maintenance costs.
More Efficient Heating and Cooling Equipment: 95% energy-efficient, properly installed heating and cooling systems use less energy, which reduces utility bills.
Independent Testing: While it's easy for builders to claim that their homes are energy-efficient, Energy Star partners back that up with a third-party inspection to verify the home's energy performance. Energy Star homes also undergo an additional comprehensive inspection of insulation and air sealing details to ensure that they deliver the full comfort and energy savings that they are designed to achieve.
Insulation: "Heritage" Super Insulated Energy Star qualified modular homes are insulated to R-25 standard with our ¾" double foil faced foam that extends down to the sill plate eliminating drafts at the floor line. Heritage Super Insulated Energy Star qualified modular homes are built with R-50 standard in the attic.
If you are looking for a Quality Systems Built Energy Star Qualified Modular, you have found it!
I am a Dealer for Heritage Off¬-Site Modular Homes and Proud of it!